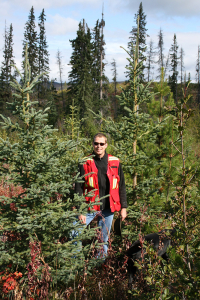 Woodlots and Woodlot Licencees are small scale forest managers who strive to take a hands-on approach to natural resource management. Timber is harvested in a manner consistent with principles of stewardship and sustainability. Each year the Minister of Forests, Lands and Natural Resource Operations recognizes woodlot licensees in three different regions in the province, Northern Interior, Southern Interior, and the Coast as well as an overall provincial winner with an
Award for Innovation and Excellence in Woodlot Management.
The award program was introduced at the AGM in Quesnel, September 2010 with Pat Bell, Minister of Forests, Range and Mines, awarding $500 to Alex Hartford (Coastal recipient), Anne Davidson (Northern Interior recipient) and Rod Blake (Southern Interior recipient) in recognition of the "true legacies" these licensees created in woodlot management.
2017 Recipients
Craig and Leanna Mann – South Area and Overall Provincial Award
Keith Granbois and Ridley Wilson – Coast Area Award
Omineca Ski Club – North Area Award
To learn more, click here.
2018 Notice and Award Criteria
2018 Minister's WL Awards Notice
2018 Minister's WL Award Criteria
To learn more about past recipients, click here.
The Woodlot Product Development Council also recognizes a woodlot licensee or group of licensees for their stewardship or contribution to BC's Woodlot Licence program each year.
To view videos of past recipients, click here.