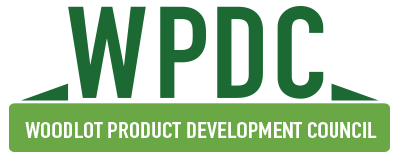 About the WPDC
The Woodlot Product Development Council (WPDC) was established in 1997 following a vote by woodlot licensees in support of forming the Council. Corky Evans, Minister of Agriculture, Fisheries and Food at the time, appointed the executive of the Council in October 1997.
Today the WPDC represents approximately 841 woodlot licensees in BC.
WPDC Development Plan 1997
2018 – 2023 WPDC Strategic Plan
Woodlot Product Development Council Board – 2022-23
The WPDC's Purpose
The primary purpose of the Council is to promote a positive image of the woodlot industry and its products throughout the province. The Council educates both the general public and buyers about the woodlot industry and the benefits of woodlots and small-scale woodlot management; and initiate and/or support research and extension programs for the development and enhancement of the woodlot industry in the province.
The Council provides support for programs and activities that simplify administrative procedures and regulations for woodlot licensees and enhance the woodlot industry.
The Council collects and administers a $0.25/m3 levy on Crown timber from each woodlot licensee under the authority granted under the Farming and Fishing Industries Development Act.
Although the Council is a separate and distinct organization, it works in direct association with the Federation of BC Woodlot Associations to provide support for goals and initiatives for all woodlot licensees in the province. All registered holders of a woodlot licence are members of the Woodlot Product Development Council.
Reports
Annual General Meetings
WPDC 2022/23 Annual Report
WPDC 2021/22 Annual Report
WPDC 2020/21 Annual Report
WPDC 2019/20 Annual Report
Annual reports prior to 2019/20 are found woodlot.bc.ca under 'FBCWA Business' in the menu.
Our Next Level of Success – Woodlot Business Development
Report – The Next Level of Success
Next Level Project Closure Report May 2013
The point of contact for this project is the WPDC coordinator, Cathy McClary.